June 18, 2008
NYTheatre.com wrote about I, Object!
"...shape-shifting visual feast and fresh surprises emerging in each scene.
A collaborative process among disciplines is clear: music, puppets, animation,
and live video are all thrown into the mix, and all work some serious magic...
The longer I, Object! opens up its box of tricks, the longer we want
to stay in this world."
Check out the full review.
If you haven't had a chance to see the show yet, we have 1 performance left at The Brick Theater on Thursday, June 19, at 10pm. Purchase tickets at the door, or online (see below).
---
Dear Friends,
You are invited to attend an Adhesive Theater Project performance of I, Object! presented by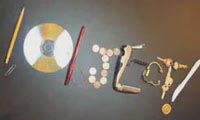 The Brick Theater, Inc. at The Film Festival: A Theater Festival.
It is very likely that I, Object! is a story about three obsessive individuals and the objects they keep. However, it may be that it's actually a story about objects and the people they keep. Whichever perspective you take, I, Object! unleashes the power of our everyday belongings and asks the question, if we can't get rid of our possessions, who is really the possessed?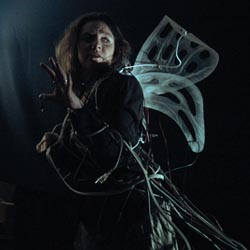 The Film Festival: A Theater Festival
I, Object!
Only Three Performances!
Saturday,
Sunday,
Thursday,

June 14th at 9 pm
June 15th at 2:30 pm
June 19th at 10 pm

at:
The Brick
575 Metropolitan Avenue
in the
Williamsburg
section of
Brooklyn
between
Union Ave
and
Lorimer St
(Take the L to the Lorimer stop or the G to the Metropolitan stop and the theater is a block away.)
Admission $15 Get tickets via The Brick-OvationTix or TheaterMania
We hope to see you there!
Adhesive Theater Project's works have been described as:
"especially memorable...creative, interesting...witty..." -- New York Times
"Nothing short of extraordinary... Stunningly theatrical, moodily evocative, and even a little scary at times...crackles with invention and intelligence." -- NYTheatre.com
"Einbinder genuinely succeeds." -- Village Voice
---
You can subscribe, UN-subscribe, or change your mailing format at any time via our web site's:
Adhesive Theater Project Newsletter Form
---