We open this week!

An invitation to our talk backs.

Thank you for your support.

Dear Friends,

After years of development, it's finally here. The Service Road opens this Friday, January 11th. With live foley artists, a video puppet, and a set that curls in like fingers, this isn't a show to miss!
We're delighted to announce our series of post-performance talk backs with the creators of The Service Road, moderated by Andy Buck.


| | | |
| --- | --- | --- |
| Saturday, | January 12: | Developing The Service Road |
| Monday, | January 14: | NYC College of Technology's Residency Program |
| Thursday, | January 17: | The Sounds of The Service Road |
| Saturday, | January 19: | Integrating Technology |

Finally, we wish to thank all of you who generously donated to our projects. None of this would be possible without your support.


Field Notes from The Service Road

A ferocious storm hits Prospect Park. The once peaceful service road turns strange as a nature guide attempts to find a lost child. On her quest she meets the denizens of one of the few natural places left in a large city. The nature guide is a modern day Hercules trying to do penance for a very bad thing she had done when she was out of her mind. Obie award winning playwright (Map of Virtue) Erin Courtney examines what it means to be of service and the true nature of forgiveness. Director Meghan Finn (see below) seamlessly blends Erin's sparse poetic language with the highly visual multi-media spectacle that you've come to expect from Adhesive Theater Project.

Adhesive Theater Project

In residence at The New York City College of Technology presents:
The Service Road
by Erin Courtney
Directed by Meghan Finn


Featuring
Cory Einbinder*, Kalle Macrides
Claire Moodey and Caroline Tamas


With live foley by Mark Bruckner and Claire Moodey

Voorhees Theater
New York City College of Technology (CUNY)
186 Jay St, DUMBO, Brooklyn
Map & Directions


Schedule of Performances:

| | | |
| --- | --- | --- |
| Friday | January 11th | 7:30pm |
| Saturday | January 12th | 2:00pm |
| Monday | January 14th | 1:00pm |
| Thursday | January 17th | 7:30pm |
| Friday | January 18th | 7:30pm |
| Saturday | January 19th | 2:00pm |
| Friday | February 1st | 7:30pm |
| Saturday | February 2nd | 2:00pm |

Get Tickets Online


or by calling 1-800-838-3006 (toll free)


$15 general $6 students


* APPEARS COURTESY OF ACTORS EQUITY

Meet Our Creative Staff


"The Service Road has been envisioned by a playwright, a team of designers, and also by the students working on it – there are many creative minds collaborating. Add live foley, puppetry, integrated video and a construction lift and there are a lot of pieces that need to come together to create a cohesive whole. That is my role and that's what excites me the most about it. New ideas are presented to me everyday – and I have to figure out how to incorporate them, how to fine-tune them, or when they are not working for whatever reason – how to find better ones. As a director this is always the gig, but for this project it is a particularly harrowing endeavor, which makes it both fun and terrifying."
Adhesive Theater Project is celebrating its second decade of binding the arts through the bonds of collaboration.
We are dedicated to working with artists in a broad range of fields – from fashion designers to scientists, illustrators to engineers – to create experimental, multidisciplinary work. By challenging these artists to work in the theater we create new perspectives for live performance. By integrating live music, visual arts, and technological innovations with metaphor and narrative storytelling we create epic experiences that excite the audience's imagination.
Be the

glue

that keeps us together -

become an Adhesive Theater Project donor.

Please consider making a

100% tax-deductible donation

to Adhesive Theater Project.

Even the smallest donation goes a long, long way.
Adhesive Theater Project's works have been described as:
"especially memorable...creative, interesting...witty..."

– New York Times

"Nothing short of extraordinary... Stunningly theatrical, moodily evocative, and even a little scary at times...crackles with invention and intelligence."

– NYTheatre.com

"Ingeniously designed... deliciously edgy..."

– Backstage
Adhesive Recommends...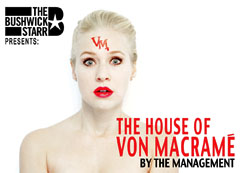 Book by Joshua Conkel
Music & Lyrics by Matt Marks
Directed by Nick Leavans

Britt is a small town girl who unwittingly becomes a muse to eccentric fashion designer, Edsel Von Macramé, and becomes tormented by psychic visions of grisly occult murders within the industry. A pop horror fashion show, The House of Von Macramé is a celebration of stylish European horror films from the 60's and 70's, an extravaganza of design and spectacle, and an exploration of iconoclasts.
Featuring: Crystal Arnette, Tara Bruno*, Aimee Cucchiaro*, Chris Gwyn, Georgia Haege, Megan Hill*, Jonathan Hooks, Felicia Hudson*, David Mitsch*, Frank Paiva, Paul Pecorino*, Vanessa Pereda, Rochelle Smith*, and James Wells. *Appear courtesy of AEA
Sarita Lou (choreographer/movement), Eileen Casterline (dramaturg), Tristan Raines (costume design), Waldo Warshaw (special effects design), Carl Wiemann (lighting design), John Cottle (set design), Daniel Melnick (sound design) and Niki Armato (production stage manager)
---
You can subscribe at any time via our web site's:
Adhesive Theater Project Newsletter Form
---