Only 5 performances left – get your tickets now!

Bring your questions to our talkbacks.

Dear Friends,

The Service Road was featured in NY Daily News, Brooklyn Daily Eagle, TimeOut New York, Brooklyn Based, and is a Village Voice Choice and NYC-Arts Editors' Pick. Reviewers' praise includes:

"The production is a luscious treat for your eyes and ears... (a) mature reflection on the residual guilt many adults feel on surviving a difficult childhood."

– Cultural Capitol

The production's exploration of how we cope with our inner demons feels haunting and genuine."

– New York Theatre Review

"...we the audience elicited audible gasps at branches dropping in the wind, dead geese plummeting to the stage, and chilling wind sounds, all bringing the desolation vividly to life. ... a beautiful art piece .... Performance/modern art and multimedia buffs will love this production..."

– Brooklyn Exposed

Now is your chance to see what everyone is talking about. We only have five performances left. With live foley artists, a video puppet, and a set that curls in like fingers, this isn't a show to miss! Get your tickets now. Our series of post-performance talk backs continues, moderated by Andy Buck.


| | | |
| --- | --- | --- |
| Thursday, | January 17th: | The Sounds of The Service Road |
| Saturday, | January 19th: | Integrating Technology |

Field Notes from The Service Road

A ferocious storm hits Prospect Park. The once peaceful service road turns strange as a nature guide attempts to find a lost child. On her quest she meets the denizens of one of the few natural places left in a large city. The nature guide is a modern day Hercules trying to do penance for a very bad thing she had done when she was out of her mind. Obie award winning playwright (Map of Virtue) Erin Courtney examines what it means to be of service and the true nature of forgiveness. Director Meghan Finn seamlessly blends Erin's sparse poetic language with the highly visual multi-media spectacle that you've come to expect from Adhesive Theater Project.

Adhesive Theater Project

In residence at The New York City College of Technology presents:
The Service Road
by Erin Courtney
Directed by Meghan Finn


Featuring
Cory Einbinder*, Kalle Macrides
Claire Moodey and Caroline Tamas


With live foley by Mark Bruckner and Claire Moodey

Voorhees Theater
New York City College of Technology (CUNY)
186 Jay St, DUMBO, Brooklyn
Map & Directions


Only Five More Performances:

| | | |
| --- | --- | --- |
| Thursday | January 17th | 7:30pm |
| Friday | January 18th | 7:30pm |
| Saturday | January 19th | 2:00pm |
| Friday | February 1st | 7:30pm |
| Saturday | February 2nd | 2:00pm |

Get Tickets Online


or by calling 1-800-838-3006 (toll free)


$15 general $6 students


* APPEARS COURTESY OF ACTORS EQUITY

Meet Our Creative Staff


"A breezy bucolic day in Prospect Park with trees rustling, cicadas buzzing, starlings and meadow birds cheeping; the rumble and roar of a tornado ripping down trees as it whirls through the park; gurgle and spew of erupting Port-a-potties; the phantasmic howl of a ghost dog that lures a big-headed toddler toward the haunted grounds of a Quaker cemetery. These are a few of the soundscapes that I and my mutli-talented musical partner, Claire Moodey, get to conjure in real-time for Erin Courtney's harrowing and heart-breaking new play, The Service Road. To match the wide gamut of technical invention employed in this production, we have wed the traditional percussive arts of Foley – bricolage of feathers, rattles, tongue drums, detuned auto-harp, a duduk, and more – with the shifting sonic textures of keyboard synthesis, phased looping, and surround sound technology. Director Meghan Finn, who brilliantly weaves all the elements of this narrative together, let us play and get wild during the rehearsal process to discover the sonic palette of the show. That was a blessing. I believe sound is the element that can most powerfully and kinetically ground an audiences' experience while getting them to breathe with the rhythm of a play. But music is the spirit that moves us. And I am most proud of the musical language we've discovered for this production, which compositionally merges the sensibilities of early 1990s grunge (e.g. Hole) with fragments and motifs from an iconic Joni Mitchell song. One of my favorite moments in the play is accompanying Lia's unfolding soliloquy as she recounts the story that has left her searching and suffering on The Service Road. It has been an absolute joy collaborating with Erin, Meghan, Cory, Kalle, puppeteer-actress Caroline Tamas and all of the gifted artists, teachers, staff and students of The New York City College of Technology. I hope you will come and join us on this beautiful journey..."
Adhesive Theater Project is celebrating its second decade of binding the arts through the bonds of collaboration.
We are dedicated to working with artists in a broad range of fields – from fashion designers to scientists, illustrators to engineers – to create experimental, multidisciplinary work. By challenging these artists to work in the theater we create new perspectives for live performance. By integrating live music, visual arts, and technological innovations with metaphor and narrative storytelling we create epic experiences that excite the audience's imagination.
Be the

glue

that keeps us together -

become an Adhesive Theater Project donor.

Please consider making a

100% tax-deductible donation

to Adhesive Theater Project.

Even the smallest donation goes a long, long way.
Adhesive Theater Project's works have been described as:
"especially memorable...creative, interesting...witty..."

– New York Times

"Nothing short of extraordinary... Stunningly theatrical, moodily evocative, and even a little scary at times...crackles with invention and intelligence."

– NYTheatre.com

"Ingeniously designed... deliciously edgy..."

– Backstage
Adhesive Recommends...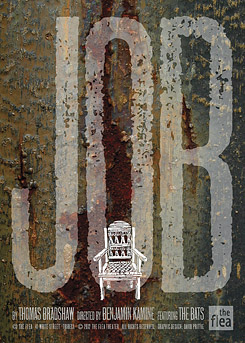 Thomas Bradshaw
directed by
Benjamin H. Kamine
featuring
The Bats
at
The Flea
commissioned by Soho Repertory Theatre, NYC

Extended: January 4th – 28th
Tickets: $20 – $25
Call 212-352-3101 or
click here
God and Satan make the ultimate bet. Meet Job, the wise and powerful judge of an Ancient Israelite tribe. Satan bets God that he can make Job blaspheme God through ever escalating violence and loss. Will Job question God's promise to reward the righteous, even when his prayers for mercy go unanswered?
In this dark, twisted comedy Thomas Bradshaw brings an honest, un-cynical adaptation of the book of Job. "We are living in this oddly religious moment in America. I did a ton of research. The Talmud has like eight different theories about when Job lived and who he was, so I had to sit down with a Jewish scholar and figure out which would be best for my purposes."
---
You can subscribe at any time via our web site's:
Adhesive Theater Project Newsletter Form
---