"It's an utterly sublime sequence in which the arts of performance and stagecraft gorgeously connect, plucking your heartstrings and causing your senses to tingle."

– TheatreMania

"...a visceral treat... Lovers of art and technology would be wise to visit The Service Road."

– Theater Is Easy

"...brimming with design talent...outstanding."

– NYTheatre.com

"...a lovely, unique experience."

– The Arts Wire

"...a luscious treat for your eyes and ears... (a) mature reflection on the residual guilt many adults feel on surviving a difficult childhood."

– Cultural Capitol

"The production's exploration of how we cope with our inner demons feels haunting and genuine."

– New York Theatre Review

"...a beautiful art piece... Performance/modern art and multimedia buffs will love this production..."

– Brooklyn Exposed
Adhesive Theater Project

In residence at The New York City College of Technology presents:
The Service Road
by Erin Courtney
Directed by Meghan Finn


Featuring
Cory Einbinder*, Kalle Macrides
Claire Moodey and Caroline Tamas


With live foley by Mark Bruckner and Claire Moodey

Voorhees Theater
New York City College of Technology (CUNY)
186 Jay St, DUMBO, Brooklyn
Map & Directions


Only Two More Performances:

Friday February 1st 7:30pm
Saturday February 2nd 2:00pm

Get Tickets Online


or by calling 1-800-838-3006 (toll free)


$15 general $6 students


* APPEARS COURTESY OF ACTORS EQUITY

Meet Our Creative Staff


She puppets the Ghost Dog, assists with the Big Headed Toddler, performs

live Foley and sings, and she co-created the shadow puppet sequence

with Erin:

Claire Moodey

talks about her various roles in

The Service Road

"It's really exciting for me to be working in such a variety of mediums in new and challenging ways with such a fantastic team of artists! I've never performed Foley before and it has been so much fun to discover how to create the sonic texture of the play with Mark. I've also really enjoyed figuring out marionette style puppets with the Ghost Dog, as most of my puppetry experience has been with other styles of puppets. With any puppet, as I suppose you could say with any character, the challenge is to figure out what makes it come to life and its vocabulary, both physical and sonic, consists of. I love trying to figure out the technical side of this puzzle-the balance between troubleshooting the physical engineering of the object and my performance is always tremendously exciting for me: where is the construction of an object hindering it's performative life and where is the performative life activated by the puppeteer of an object? And learning how to make the Big Headed Toddler's limbs engage with Caroline was fantastic! The whole team is full of curious, inquisitive and hugely talented people, so it has been a wonderful experience to join the process and play with everyone!."
Adhesive Theater Project is celebrating its second decade of binding the arts through the bonds of collaboration.
We are dedicated to working with artists in a broad range of fields – from fashion designers to scientists, illustrators to engineers – to create experimental, multidisciplinary work. By challenging these artists to work in the theater we create new perspectives for live performance. By integrating live music, visual arts, and technological innovations with metaphor and narrative storytelling we create epic experiences that excite the audience's imagination.
Be the

glue

that keeps us together -

become an Adhesive Theater Project donor.

Please consider making a

100% tax-deductible donation

to Adhesive Theater Project.

Even the smallest donation goes a long, long way.
Adhesive Theater Project's works have been described as:
"especially memorable...creative, interesting...witty..."

– New York Times

"Nothing short of extraordinary... Stunningly theatrical, moodily evocative, and even a little scary at times...crackles with invention and intelligence."

– NYTheatre.com

"Ingeniously designed... deliciously edgy..."

– Backstage
Adhesive Recommends...
New Ohio Theatre
presents
Godlight Theatre Company's production of
Adapted by
Matt Pelfrey
Directed by
Joe Tantalo
Based on the novel of the same name
January 31st – February 23rd
"You have two days to pass your audition. You better pass it, feller. You're joining the circus. Ain't that the best news you ever got?"

---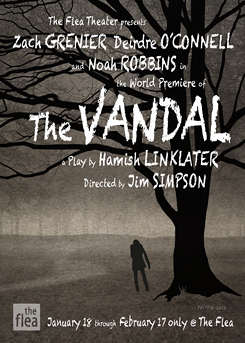 Hamish Linklater
directed by
Jim Simpson
starring
Zach Grenier
,
Deirdre O'Connell
,
and
Noah Robbins
January 18th – February 17th
at
The Flea
A freezing night in Kingston, New York. A woman meets a boy at a bus stop. A play about how we live and the stories we tell ourselves when we're haunted by the people we've loved and lost.

Tickets:
click here
$45 Tuesday – Thursday, Saturday Matinee
$50 Friday and Saturday night
PWYC Tuesdays at the door only
Post show discussion every Wednesday!
---
You can subscribe at any time via our web site's:
Adhesive Theater Project Newsletter Form
---