Spring, 2005
Dear Friends,
We are happy to share with you Adhesive Theater Project's Spring Newsletter.  You can use the link at bottom to subscribe / unsubscribe or to change the format of mailings for our newsletter.
UPCOMING PROJECTS
This spring Adhesive will present a fully staged production of Edmond Rostand's Chantecler, a Puppet Making Workshop, and a Massive Stoop Sale.
CHANTECLER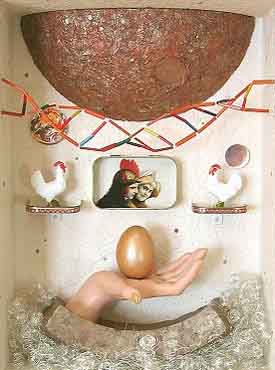 Chantecler, by Edmond Rostand, author of Cyrano de Bergerac, is an animal allegory about a rooster who believes that his song makes the sun rise. Adhesive Theater Project's production will investigate the themes of inspiration, finding our place in society, and overcoming our greatest doubts and fears.
With our resident composer's 3 piece band performing an original score, 2 visual artists drawing the world of the play as it transpires, and 10 actors playing over 100 characters using puppets, masks, and physical theater, Adhesive Theater Project will be breaking new ground in the theater by offering a uniquely live experience for the whole family.
Director Cory Einbinder returns to this play 10 years after his critically acclaimed first production, hailed as:
"...gorgeously imaginative staging... artistic triumph of the year. Cory Einbinder has reached into an enormous bag of tricks to give this production an almost non-stop sense of whimsy." - Citipaper
"Imagination abounds... Einbinder has to be commended on his witty, atmospheric production." - Philadelphia Weekly
"...amazingly powerful... Cory Einbinder Directs with imagination... deserves to be seen by a much larger audience." - Hats Off
PRODUCTION DETAILS
Chantecler will be presented at:
Teatro LA TEA, Clemente Soto Velez Cultural Center
107 Suffolk Street (by Rivington)
Trains: F,J,M,Z to Delancey Street

From April 28th through May 22nd 2005
Tuesdays - Saturdays at 8pm
Saturday Matinees at 2pm, Sundays at 5pm
Tickets $18
Discounts available to students and groups
For all ages
For Advanced Tickets visit:
 www.theatermania.com
or call 212-352-3101
For more information please visit our website:
 www.adhesivetheater.com
PRODUCTION TEAM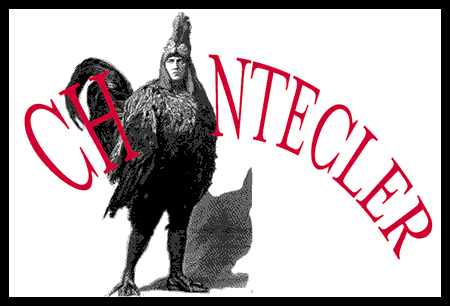 We have put together a fabulous crew on this production.  We have teamed up with the production company Off the Leesh, the non-profit sector of On the Leesh.  As co-producers, Off the Leesh has offered us the publicity services of Joe Trentacosta of Springer Associates.  In addition, Off the Leesh has provided us with our Art Director, Diana Whitten, who has a background in photography and sculpture / installation work as well as in mask and puppet design.  Her sculpture and installation artwork has been exhibited in NY, MA, OR, and across the seas in Bali, Indonesia where she lived and studied the Javanese and Balinese Shadow Theater on a Fulbright Fellowship.  Shari Johnson, member of Lincoln Center's Directors Lab, will be serving as Assistant Director.  We are working with wing builder and puppet master Brian Williams, member of the Brooklyn-based arts group the Madagascar Institute.  Also from Madagascar, Jeff Stark has signed on for "special projects," including master-minding our projection technology.  Long-time collaborator Christiaan Koop will be working on puppet design and construction as well as working on our upcoming Puppet Lab.  Costumes will be designed and constructed by Suzanne Chesney, and our sets will be designed and constructed by our Technical Director, Todd Smith, with Artie Stiles serving as Technical Advisor.  In addition to performing in the show, Talaura Harms will be assisting with the construction of puppets.  Visual Artists Jonathon Zeh and Jim Harley will be collaborating with us as they illustrate the world of the play on stage with the use of a projector.  Our first intern, Vinnie Colombo, a PACE University student of Director Cory Einbinder, will Stage Manage.  Former PACE student James Bedell will be designing lights.  Our resident composer Joel Griffin, who created the music for Spring Awakening and Figaro Gets a Divorce, and his three piece band with musicians Rob Caruso and Damien Lennon (Ach! Baby) have created a new score and will perform live with the cast.
And last but certainly not least, we are honored by the talented actors who have signed on to this project.  They are:  Drae Campbell, Charles Goonan, Talaura Harms, Jessica Jolly, Kalle Macrides, Josh Mclane, Alanna Medlock, Madeline Muravchik, Orion Taraban, and Aaron Mostkoff Unger.
Biographies for all cast and crew can be viewed on the website, www.adhesivetheater.com
PUPPET WORKSHOP
Adhesive Theater Project and Off the Leesh offer a Puppet Workshop in coordination with our production of Chantecler.  Art Director Diana Whitten, who teaches set and costume design for young people at Roundabout Theater, and Puppet-Maker Christiaan Koop will use a model similar to that of Roundabout. Participants will arrive to the workshop before the show.  They will be provided with materials similar to those used in the construction of the masks and puppets in the show, as well as a section of the script.  Ms. Whitten and Ms. Koop, along with several members of the cast and crew, will guide participants in the creation and manipulation of puppets and masks that are faithful to the themes of the play.  Our hope is that this process will enrich the participants' experience when viewing the production.  Workshops will be held Sundays, May 8 and May 15 at 3pm.
MASSIVE STOOP SALE
Adhesive Theater Project will hold its first annual Massive Stoop Sale this spring.  We will be asking people to make a tax-deductable donation of unwanted belongings to Adhesive.  We will then pick materials up free of charge, letting everyone know about our mission and our new production.  Soon to be a Brooklyn Favorite, look for us on Court Street in April.
WEBSITE
We have made great progress on our website,
 http://www.adhesivetheater.com/
Designed by Board Member Foteos Macrides of Macrides Web Services,
 http://www.macridesweb.com/
the site has been modified to promote all Adhesive Events, allow for on-line ticket purchases, include biographies for cast and crew, a private message board for cast and crew, capability for secure on-line donations through PayPal, and of course, the inclusion of a newsletter.
So please invite people to our show!  If there is anyone to whom you would like us to send a post card, let us know.
Thank you.  See you at the show.
Sincerely,
Kalle Macrides
Executive Director
 

Cory Einbinder
Artistic Director
---
You can subscribe, UN-subscribe, or change your mailing format at any time via our web site's:
Adhesive Theater Project Newsletter Form
---