THEATER REVIEW | NEW YORK TIMES

| SEE THE
COMPLETE REVIEW
Charting a Dreamlike Journey, With Travels Both Outside and In

"
The Service Road
by Erin Courtney conjures an eerie landscape that follows its own rules and dares you not to believe in it. The setting is Prospect Park, but imbued with dark enchantment, and fertile ground for Ms. Courtney's investigations into self-recrimination and forgiveness. Ms. Courtney won an Obie Award last year for
A Map of Virtue
... and that play's haunting ambience is shared here.
Road
follows the journey of a park tour guide, Lia (Kalle Macrides), searching for a child in the aftermath of a powerful storm. Mythological or literary antecedents, including
Alice's Adventures in Wonderland
, are suggested, but Ms. Courtney offers up her own brand of dream imagery. ... Lia must rebuild after a cataclysm of the soul.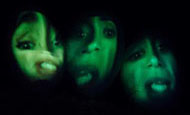 She commences her search, interacting with men she encounters (a park ranger, a teenager, a carousel operator and a tree attendant on a hydraulic scaffold, all convincingly played by Cory Einbinder). Taunting her on the quest are three Tree Children (played by Caroline Tamas), their faces emblazoned via live video on giant eggs resting on a branch, sowing self-doubt like malevolent Cheshire cats. And just who, or what, is Lia's quarry? The traumatic past, personified in the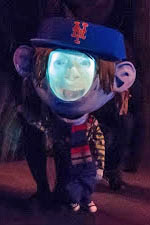 Big-Headed Toddler, a wondrous puppet devised by Mr. Einbinder and partly manipulated by Ms. Tamas. Using a camera rigged to her head, Ms. Tamas transfers her facial expressions using a real-time video feed to the Toddler's broad face. ... The set, by Michael Riccio, is an Expressionist conception of inclined planes, moving branches and the aforementioned eggs. Mark Bruckner, the sound designer and composer, creates a backdrop of electronic textures and a brilliantly jagged take on Joni Mitchell's
Both Sides Now
, working with the multitalented Claire Moodey, who also operates puppets and collaborated on the animation. The director, Meghan Finn, deftly strikes a balance between ingenious technology and Ms. Courtney's intimate script, marshaling the two into a resonant and captivating whole. The play's internal order, however surreal, feels entirely complete."
– The New York Times (see the complete review)